The Allen County Indiana Bar Association provides educational, social and professional opportunities for members of the legal community in Allen County and surrounding counties. We are dedicated to providing support for area attorneys, judges, and paralegals through continuing legal education programs, active committees, and legal interest sections.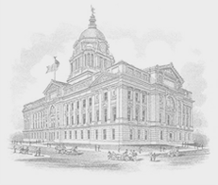 History
The practice of law in Allen County was established by the activities of the Allen Circuit Court in 1824. Judge Bethuel F. Morris, a resident of Indianapolis, "rode circuit" and presided over the Allen Circuit proceedings, with the assistance of two associate or "side" judges, who were elected from the County and who were not required to be lawyers. The practice of law flourished in the County after the establishment of the Circuit Court and as the area became settled in the 1800s. The Allen County Bar Association was formed in 1890. The elected presidents administered the Bar Association from their personal law offices until 1956 when the Association established its own office. In 2000, the Association moved into new and expanded headquarters at 924 South Calhoun Street. The building was purchased and renovated by the Allen County Bar Foundation.
Continuing Legal Education
The ACBA offers numerous opportunities for live and video continuing legal education programs, from small one-hour section luncheons to one and two day programs. The New Lawyers Section hosts an annual Applied Professionalism program. boot camp for new lawyers. ACBA members receive a discount on the cost of CLE programs. From monthly section-only programs to Last Chance Videos in December, the ACBA offers numerous CLE sessions for attorneys and paralegals.
Service to the Community
Whether it is collecting needed items for local charitable organizations or free legal advice on Tuesday evenings, the ACBA is actively involved in the community. The ACBA can help find attorneys who can speak on various topics related to law. ACBA members participate in the Volunteer Lawyer Program of Northeast Indiana and Neighborhood Christian Legal Clinic, providing free legal assistance to people who cannot afford to hire an attorney.
Commitment to Professional Courtesy
The ACBA is committed to a high level of professional courtesy among its members, with the courts, and with others who interact with the legal system. A 'Commitment to Professional Courtesy' was adopted by the Board of Directors in 2004.
The document listed above is available in Portable Document Format (PDF). In order to view or print the documents, you must have Adobe Acrobat Reader.